Introduce a new revolutionary product – integrated solar street light, combining solar and LED technology. The best solution for all these areas that are lack of electricity supply or even no electricity supply, remote places with no good communications, and all the areas with electricity supply but with good climatology. The system charges the battery during the day and illuminate at night. Due to the use of LED technology, is able to maximize all the solar energy and illuminate the environment with radiant light. The new designed integrated solar street light plus, are widely used for application: Garden, Residence, Courtyard Crosswalk, Roadway; Mine, Parking lot; and other area with no electrical supply.
Application



Garden, Residence, Courtyard Crosswalk, Roadway
Mine, Parking lot
Area with no electrical supply
Advantage of New Designing
UNIQUE LUMINARIE DESIGN heat dissipation for integrated solar street light

The lamp is 100% Designed by Yinghao engineers. The integrated design makes the light simple, stylish and practical; solar energy supply means clean energy and clean energy means save costs. Once installed, it will not need to face any other costs.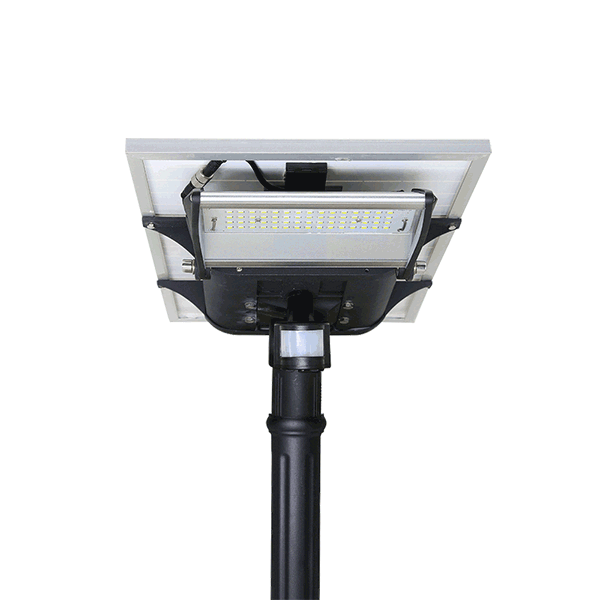 The luminarie can be adjusted to different angles, depending on the latitude and characteristics of the land. It can be installed vertically and horizontally, or on a wall. It is designed to install, maintain or repair easily, maintain or repair. Its surface can absorb all the solar energy and its infrared body sensor modulates to save energy during night-time. All these are without cables. The Lithium-Iron barrery is compressed and has three main characteristics: reduced size, high-capacity and long life-span.


Up to 100-110 Lm/W (Lumens per Watt) light output and +90% driver efficiency. 30pcs SMD5730 LED, robust illuminaries. For 10W street light, it has 1000 lumen.
PIR Motion sensor enables the lamp to run in a most
efficient way. Turn very bright whenever someone is
passing by, and run a super long time with one full
charge(2-6 cloudy or rainning days).