YH0611-PIR
330Lumen Solar Motion Sensor Light/ Outdoor Security Light/ Waterproof Durable/ Wall Driveway Garden Patio Path Decking Light
$0.00
Hot Deal $21.99
Model No:

YH0611-PIR

LED Color: Cool White

Solar Panel: Polycrystalline Solar panel 5V 2W

Battery: Lithium ion battery 3.7V 2200MAH

Light Source: 18 LED, 3W, 330Lumen.

Quantity:
Add To Cart

★ 【330 Lumen Super Bright!!】 -–Harness the FREE SUNLIGHT, 330Lumen super bright.

★ 【Auto ON & OFF, stay on all night】 -–It'll Auto-on On Time At Every Dusk And Auto-off By Every Dawn Free Of Operation

★ 【PIR Motion Device, Add Security & Convenience】--The light with a PIR (PASSIVE INFRARED) core part. It will become very bright while some approch it.

★ 【No Maintenance, No Wire Hassle, Waterproof and Weather Resistant】--ZERO main power consumption, simple to use.

★ 【Quality Guarantee and Repair Service for Lifetime】--FULLTIME GUARANTEE, and we offer repair service all the time.
Product Details
Reviews
Shipping And Payment
FAQ
Product Details
Benefits:
When evening comes, the solar fence light will automatically send out light. This solar fence light gives you a good view and safety of your garden at night.
Turn on the switch on the side of the solar panel and it will be charged as soon as the sunlight is enough.
Super bright, enhances safety by increasing visibility at night and bad weather conditions.

Features:
★ 【Updated Solar Panel】YINGHAO solar lights adopting advanced high density laminated glass solar panels, getting faster battery charging in less sunshine environment. With larger capacity 2200mAh rechargeable lithium-ion battery, lighting up to 12 hours with a single fully charge.
★ 【LED Sensor Light with a large sensor】 More sensitive and have a longer sensor length within 20 feet with a 120 degree sensing angle. Auto on at night / auto off at sunrise; Keep dim light when no motion and become bright light when motion detected, the bright light will last 60 seconds until it returns to dim light again.
★ 【Super Bright 18 LED Solar Lights】High brightness18 LED lights design provides a super bright level of illumination for a wide area, which is much brighter than other similar solar lights in the market. Great outdoor lighting for your garden, backyard, garage, porch, patio, or driveway etc. Which provide safety and security for you and your property all night.
★ 【Flexible Installation】Our solar powered outdoor lights come with a adjustable mounting bracket that gives many mounting options. It allows you to mount it in a number of places.
★ 【Waterproof & Durable】IP44 waterproof and solid aluminium alloy construction for withstanding years of rain, snow, ice and wind, good resistance to corrosion, not fade, attractive and durable. 100% Satisfaction Guarantee and Risk Free! All of our solar lights outdoor are backed by 18-Month Warranty and 60 Days Money Back Guarantee.

Specifications:
Material: ABS+PC+Aluminum Dimension: 15.2 x 10.4 x 4.5cm(Lx Wx H)
Motion detection: 6-8M, 120 degrees Waterproof grade: IP44
Charge time: 4.5H Working long time: 12 Hours
Color temperature: 6000-7000K Solar panel: Polycrystalline Silicon 5V 2W
Battery: Lithium ion battery 3.7V/2200mAh Light source: 18pcs LED
Waterproof: IP45 Lumen: 330LM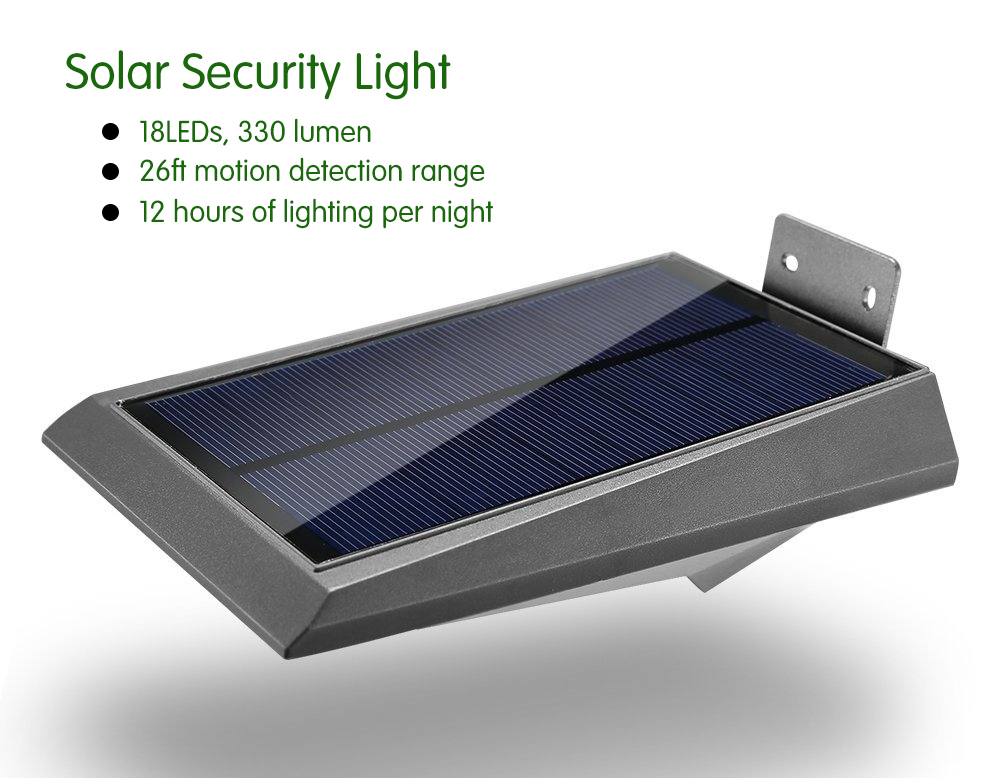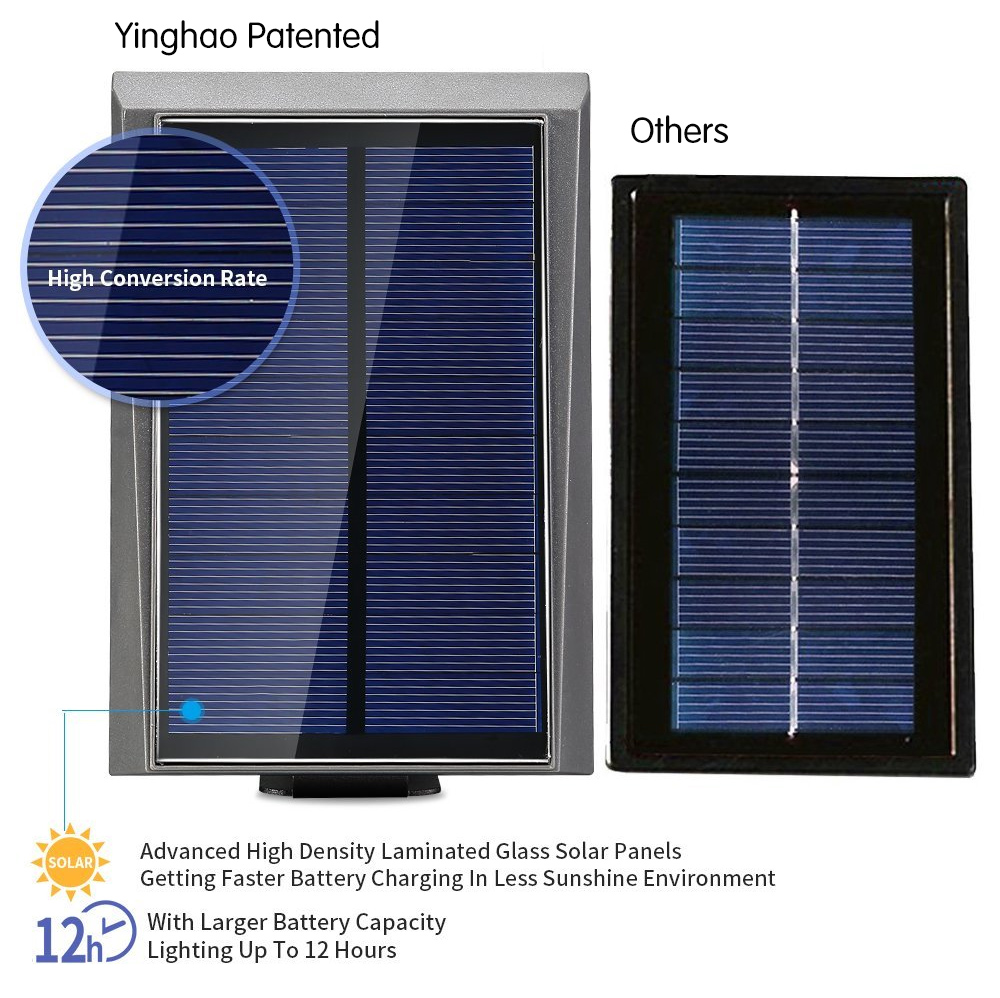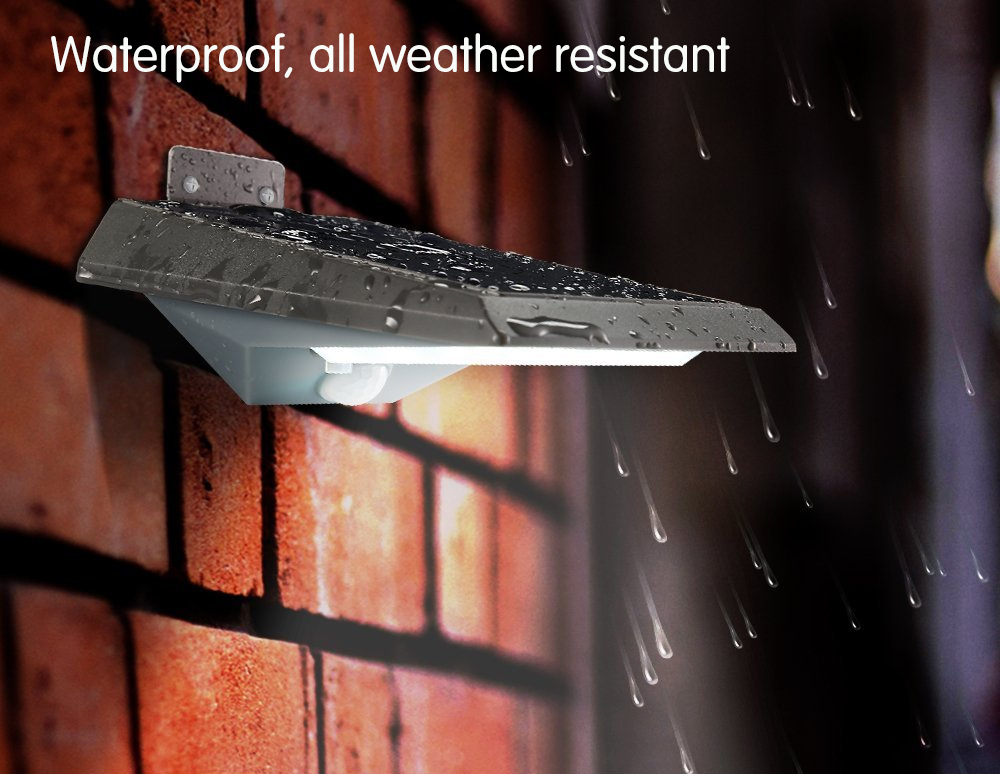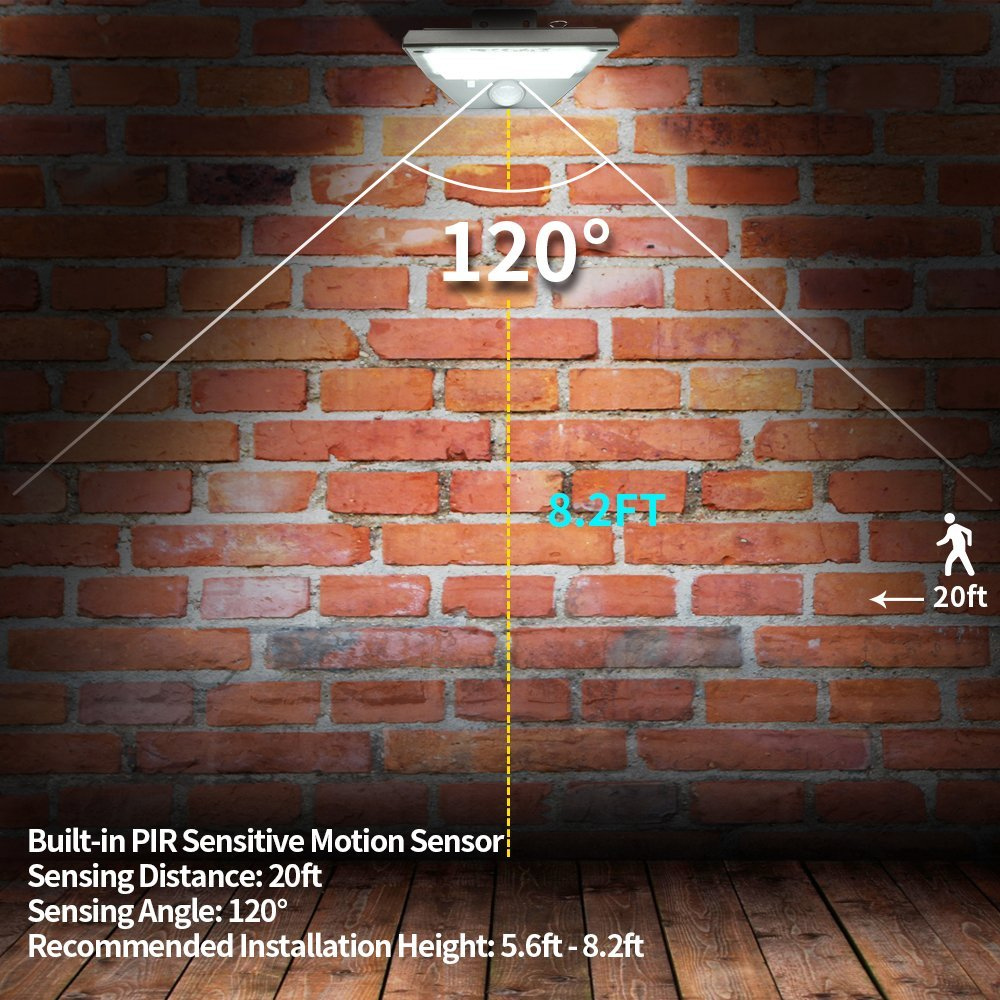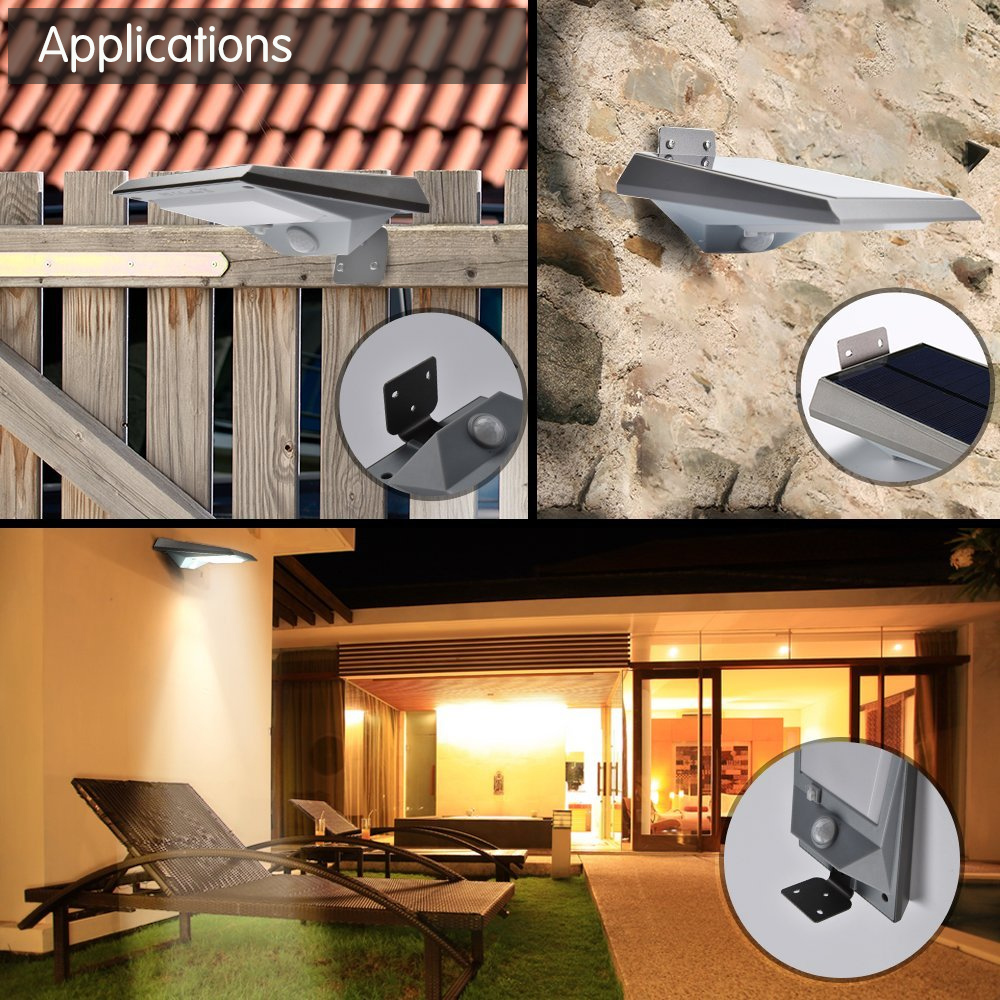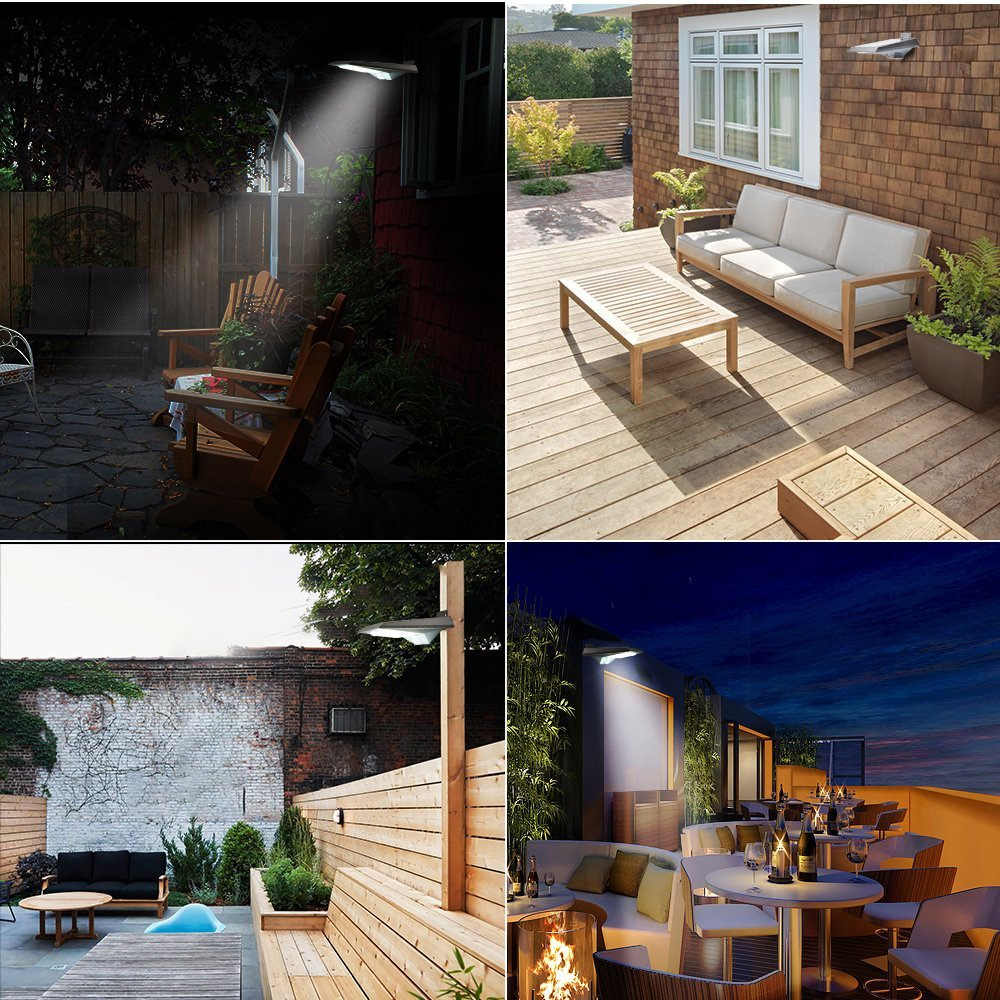 Warm tips:
☀ The spotlight won't light up in bright place. Please select an outdoor location away from other light source at night,such as street lights.It may cause the product not to turn on automatically at night.
☀ For the first time use,please charge it by placing it under direct sunshine for at least 8 hours.
☀ The working time and charging time depend on the weather condition,the season and location.
☀ It is waterproof,cannot immerged into the water or stay in the water too long.
☀ Please be sure it is installed in a well-lit location where the solar panel can get maximum sunlight during the day.
☀ Please confirm the switch is under "on" status so that the light could be charged normally and auto lights on at night.

Note:
1. Keep the solar panel clean.
2. If solar product does not light up after it has been used for around 8-12 months,replace the rechargeable batteries as they may be weak or worn out.(Lithium ion battery 3.7V/2200mAh or same equivalent type as recommended must be used).

Reviews
[[VIDEOID:d3af8922c199b22f7721f9c0893d4a3c]]Beautiful solar light which has been added to my backyard recently. It came with everything I needed to install and put it to good use. In my opinion, here are a few pros vs cons:
PROS:
1. Easy installation
2. The included bracket gave me at least 2 options to mount the light
3. Look small but it is very bright at night
4. It absorbs sunlight during the day, turns on at night and turns off when daylight arrives.
CONS:
1. Small solar panel
2. Need to be at a good spot with great amount of sun light, else it won't have enough energy for the whole night. I took a bio break in the middle of the other night, looked out my window and the light was gone.

OTHER THOUGHTS: I would buy at least 2 of them. In my opinion, they would look better in pair.

FINAL THOUGHT: great solar light for path ways, doors (I placed mine at the backyard's gate door), sidings, patios, gutters...everywhere and wherever has a lot of sunlight.
Comes with everything you need to install except the screwdriver. After you chose the location you wish to install it you will have to make sure it will have full access to direct sunlight. We don't have light access on the sides of our house so I figured the gutters were the perfect spot for the solar lights since it would get the direct sun in the morning and afternoon. At night the sides of the house are so dark and I can never see my dogs or what they are barking at. I have not installed them on the gutters yet, but they have been sitting on the patio table in full sun and work perfect when the dogs walk by them. So very hopeful they will do the same when up on the gutters.

At night the light automatically turns on very dim and once it senses movement it will convert to a very bright white light. It will stay on as long as it senses movement, once the movement is gone it reverts back to a dim light. If the light does not get a full charge from the sun, it will not work. I learned this from the gloomy days we have been having lately.

These lights are perfect way to add light anywhere you need when you don't have power to certain spots on your property or you just want to light up someplace where having light would be impossible outdoors. They are dependable. Not sure how they will hold up in our harsh winters though since it is June and I just got them. But so far I am happy.

Product description states:

HARNESS THE SUNLIGHT, SAVE ENERGY BILLS,IP44 WATERPROOF, DESIGNED FOR YEARS OF USE. 150LM Brighter 2nd Generation LED Bulbs. 80*80CM Larger Solar Panel Attached For Stronger Sunlight Collection and Longer Work Time.12 Hours' Run on Each Full Charge. Reliable Materials: PMMA+PP+Aluminum Alloy
A LITTLE SOLAR DEVICE FOR GREATER SAFETY AND SECURITY. The Light Will Stay On In Eco Mode Throughout The Night, Wipe Out Any Potential Danger Concealed In The Darkness. It'll Auto-on On Time At Every Dusk And Auto-off By Every Dawn Free Of Operation
THE SECRET WITH A PIR(PASSIVE INFRARED) CORE PART. The PIR Functions As You Walk Near The Light, It Will Sense Your Motion And Spur The Light To Throw Off With Instantly Increased Intensity Of 150LM For A Length Of 45 Seconds Before Converting To The Eco Mode, So As To Save Energy And Expand The Light's Lifespan
ZERO MAIN POWER CONSUMPTION, SIMPLE USE, CONTRIBUTION TO ENVIRONMENTAL PROTECTION. Easy Installation With Mounting Hardware Enclosed In The Package. Applies Widely From Beside The Door, Wall, Eaves, Porch To Garden, Patio, Fence, Decking, Pathway, Etc. Where There Is Sunlight, There Applies This Light Fixture
FULLTIME GUARANTEE, Please feel free to contact us if the light couldn't work normally.
I am very impressed with these lights. I didn't expect them to light up as much as they do. The pictures that are attached were taken in complete darkness with no flash. The light that is in the photo is only from one of these solar lights.

If you do not want these lights on every night there is a switch that you can push to off to turn them off. I am actually able to see my deck when I am looking from inside of my house to the deck in the pitch black.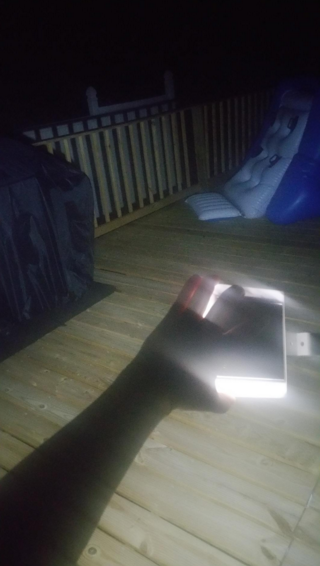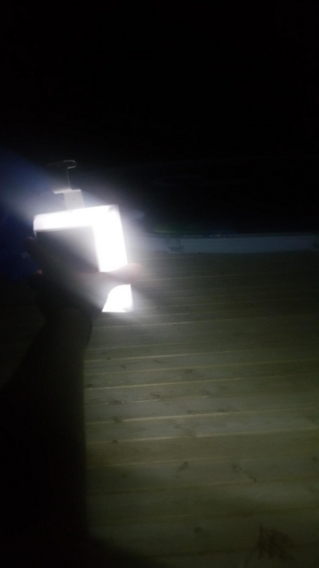 I received this Solar Super Bright PIR Motion Sensor Waterproof Wireless Security Light Lamp in anticipation of a large light that would be like a street lamp. Large, bulky, have great size like 14 inches by 14 inches. Looking at the picture, that's the impression I got.
When the box arrived, it was pretty small and the light is only about 5 inches by 5 inches. But wow!! What a light!!

I could not charge it the day the Solar Super Bright PIR Motion Sensor Waterproof Wireless Security Light Lamp arrived, but just for curiosity, turned the "on" switch to see if it had any charge. I made the mistake of looking at the light itself when I turned it on I wasn't expecting it to be very bright since it hadn't been charged. WRONG! and WOW!! Blinded by the light!! It was powerful!
The pictures below don't really do it justice. I Tried to catch the brightness. It was VERY bright!! I left it on to see how long it would last.
Hours later Solar Super Bright PIR Motion Sensor Waterproof Wireless Security Light Lamp was still going strong!!

This is a great find! But this is one time I truly got the best part of the deal! This light is amazing!. It's also waterproof , I tested it in the rain and it was not phased. It also covers a pretty good area, so I have placed it by my front door. The Motion sensor is very accurate and picks people up about 10 feet from my door. The light is always on, (at night), but when it senses someone it comes on much brighter. I love it! Give it a try, You will be very pleased!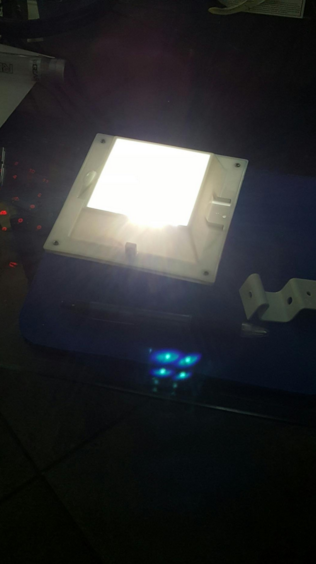 Shipping And Payment
SHIPPING
When you order from Yinghao Solar, you will receive a confirmation email. Once your order is shipped, you will be emailed the tracking information for your order's shipment. You can choose your preferred shipping method on the Order Information page during the checkout process. Yinghao Solar offers four different international shipping methods:
Shipping from Chinese Warehouse

Airmail and register airmail

Area

time

United States, Canada, Netherlands, Spain, Germany, France, Japan, Republic of Korea, United Kingdom

7-20 business days

Australia,New Zealand,Singapore

7-25 business days

Belgium, Denmark, Finland, Ireland, Norway, Portugal, Sweden, Switzerland

7-25 business days

Brazil, Russia, Mexico

15-35 business days

Other countries

7-25 business days

Priority Direct Mail

Austria, Belgium, Denmark, Finland, France, Germany, Greece, Italy, Netherlands, Portugal, Spain, Sweden

7-10 business days

United States, United Kingdom, Australia

6-9 business days

Japan Direct Mail

Japan

5-8 business days

EMS

7-15 business days to worldwide

Expedited Shipping

5-8 business days to worldwide
NOTE: Netherlands Direct Mail has been combined into the Priority Direct Mail. If you are in a European country; simply choose Priority Direct Mail and it will be shipped via Netherlands Direct Mail.
*Expedited shipping can not be used for PO Box addresses
I Urgently Want My Order Can I Use Express Shipping?
Yinghao Solar is happy to provide our customers with express shipping service. However, there are additional costs to consider before choosing this option. Any custom or import duties are charged once the parcel reaches its destination country. These charges must be paid by the recipient of the parcel. Unfortunately, we have no control over these charges, and cannot tell you what the cost would be, as customs policies and import duties vary widely from country to country. We recommend you to contact your local customs office for current charges before you order, so that you will not be surprised by charges you were not expecting.
How Much Does Shipping Cost?
Prices vary depending on product, location, shipping method and warehouse. You can check the cost on every product page.
1. Ensure you have selected the correct shipping country in the "Ship to" tab at the top of the page.
2. Select the desired warehouse
3. Choose shipping method
4. Exact shipping price is calculated
Payment & Exchange


Can I Arrange Cash On Delivery?
Like most online retailers we do not offer any form of pay on delivery. Pay for your orders in advance. There are many different ways you can pay for your orders, from credit card to PayPal; we are sure there is a method you will be able to use.
Can I pay by Credit Card?

We can accept your payment directly via Credit Card.

Paying with Credit card
1) Choose your shipping address OR create a new one.
2) Enter your Card Details and click Submit.
3) Your Payment will be processed and a receipt will be sent to your email inbox.
NOTE:
- Credit cards can only be tried 10 times per hour, if you have made many failed attempts, your credit card will be locked for one hour.
- Yinghao Solar does not accept BRL currency via credit card payment. However, you can still pay BRL with the other payment methods.
To ensure security your credit card number is safely encrypted throughout our server.
We support the following card types: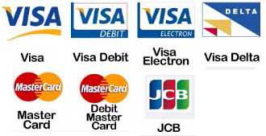 Why Has My Credit Card Been Declined?
The most common credit card issue is incorrect card details, if you have checked the card details are correct the following issues may arise:
. Do not honor by your card issuing bank.
. Insufficient funds in your card.
. Restricted Items: E Cigarettes Or Adult Products.
. Card has expired or a new card has not been activated.
. System section time-out.
. Stolen or lost card.
Can't see the credit card option? Credit card is only available in specific countries that we have an association with, if it is not available we cannot accept credit cards directly. You can still use your credit card with PayPal.
If you are seeing this page you have an issue with your card there are numerous reasons this will show, unfortunately we don't have access to the precise information all we can suggest is you check the card details, complete the transaction with another card or use the other payment methods.
Can I pay my order by

PayPal Payments
Through PayPal, you can pay with credit card, debit card, or connected bank account. Once your order is submitted, you will be redirected to PayPal's page where you can make the payment.

1) Login to your PayPal account or use Credit Card Express.
2) Enter your Card Details, the order will be shipped to your PayPal address, and click Submit.
3) Your Payment will be processed and a receipt will be sent to your email inbox.
NOTE: Your order will be shipped to your PayPal address. Ensure you have selected or entered the correct delivery address.

Wire Transfer Payments

is also welcomed
We are also happy to accept Wire Transfer payment for most orders over US$100 in value. Orders under US$100 can not be paid via Wire Transfer.

For Wire Transfer payments
Beneficiary Name:
Beneficiary Bank:
Bank Address:
Bank Code:
Beneficiary Account Number:
Swift Code:


IMPORTANT NOTICE: After you place your order, check your inbox for a confirmation email that contains instructions for how to complete payment for your items. Your products will not be shipped until payment is completed. If you have any other questions regarding your order payment through Wire Transfer, please email: sales@zsyinghao.com

We want to remind all customers that they are responsible for all local handling fees and intermediary bank handling fees. Therefore, customers should confirm the total payment amount with their local bank.
FAQ
What questions do other customer have about this product? You might have the same questions and you can find answers here!
Question: How many lights do you get?
Answer: We have 1 pack, 2 pack, 4 pack available.
Question: How does the button on the back of the solar panel work?
Answer: It is a ON/OFF switch. Push it to turn it On, then it will work automatically(turn on at dusk,turn off at dawn).
Sorry, you haven't logged in!