YH0405
3 LED Solar Bright Step Light Waterproof for Stairs Pathway Deck Garden Wall Yard Durable Stainless Steel(6 pack)
$0.00
Hot Deal $26.99
Model No:

YH0405

LED Color: Cool White / Warm White

Solar Panel: Polycrystalline Solar panel 2V 0.18W

Battery: AA Size Ni-MH 1.2V 800mAh

Light Source: 3 LED, 0.2W, 20Lumen.

Quantity:
Add To Cart

★ 【Upgrade 3 LED, much brighter】--This item is a upgrade version, brighter and last longer.




★ 【Sleek & Solid design, Stainless steel】--This item is made of stainless steel. Compact, sleek and solid.




★ 【Eco friendly, Powered by FREE SUN】--Great for walkway, driveway, deck, patio, stairs etc.




★ 【Waterproof & All weather resistant】--Rated IP45 waterproof. Includes a powerful 600Mah 1.2V Ni-MH rechargeable battery for up to 8 hours of illumination on a full charge / Size: 10*2.3* 8.3CM.




★ 【Auto ON/OFF, no maintenance】--Turn on at dusk and turn off at dawn automatically.
Product Details
Reviews
Shipping And Payment
FAQ
Product Details
Features:

★ 【Upgrade 3 LED, much brighter】--Exclusive 3 LED strengthened 100% new release to supersede 2 LED models, brighter and more durable.This item is stainless steel Solar Power garden yard stair step Lights.
★ 【Sleek & Solid design, Stainless steel】--This item is stainless steel Solar Power garden yard stair step Lights.Good water-proof for all weather usage outside;the wall-mounting design contributes to convenient installation and fashionable appearance.
★ 【Eco friendly, Powered by FREE SUN】--These energy-efficient, low-maintenance solar lights add a charming, decorative glow to your driveway, patio, or flowerbeds. They are a must-have for everyone's garden or yard. Made of stainless steel durable for years of use.
★ 【Waterproof & All weather resistant】--Waterproof & Durable - Solid stainless steel construction for withstanding years of rain, snow, ice and wind / Includes a powerful 600Mah 1.2V Ni-MH rechargeable battery for up to 8 hours of illumination on a full charge / Size: 10*2.3* 8.3CM.
★ 【Auto ON/OFF, no maintenance】--Built in darkness sensor enable the light to work all by itself. Turn on at dusk and turn off at dawn.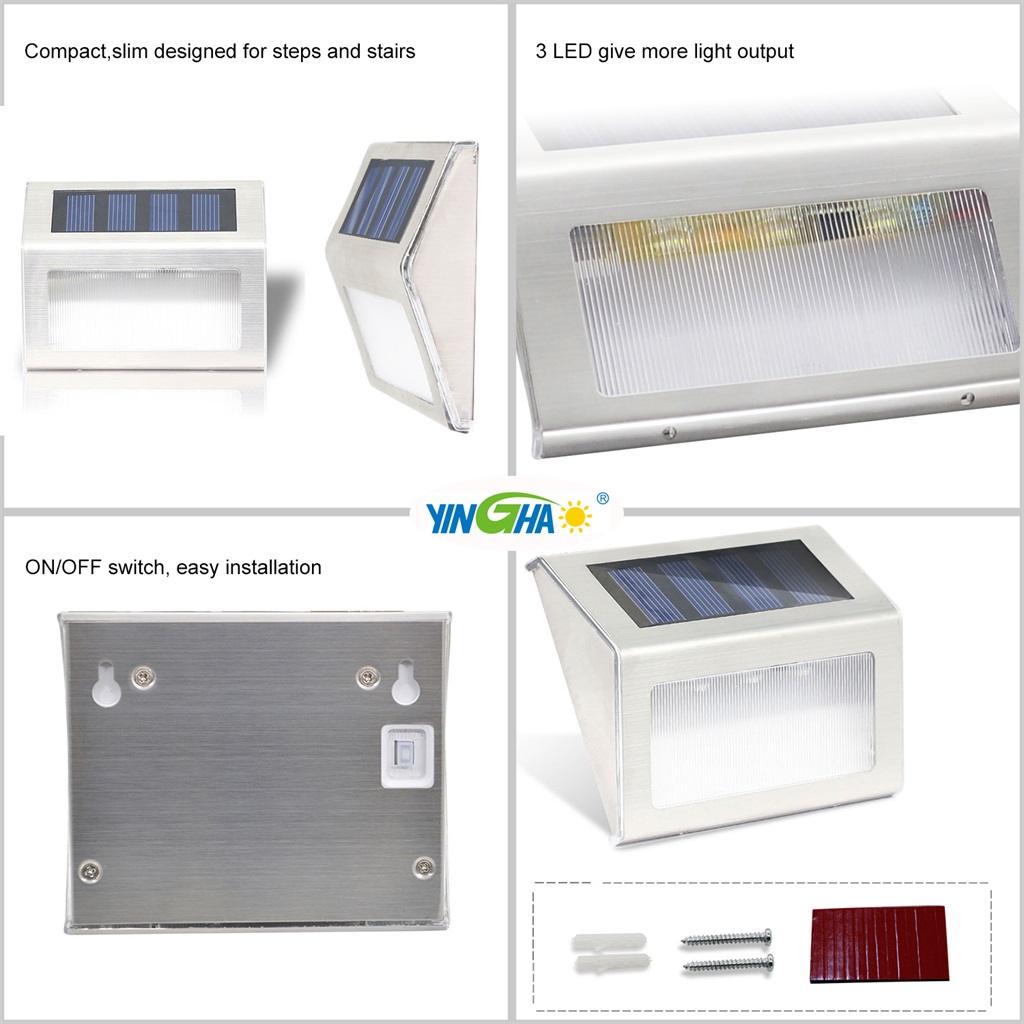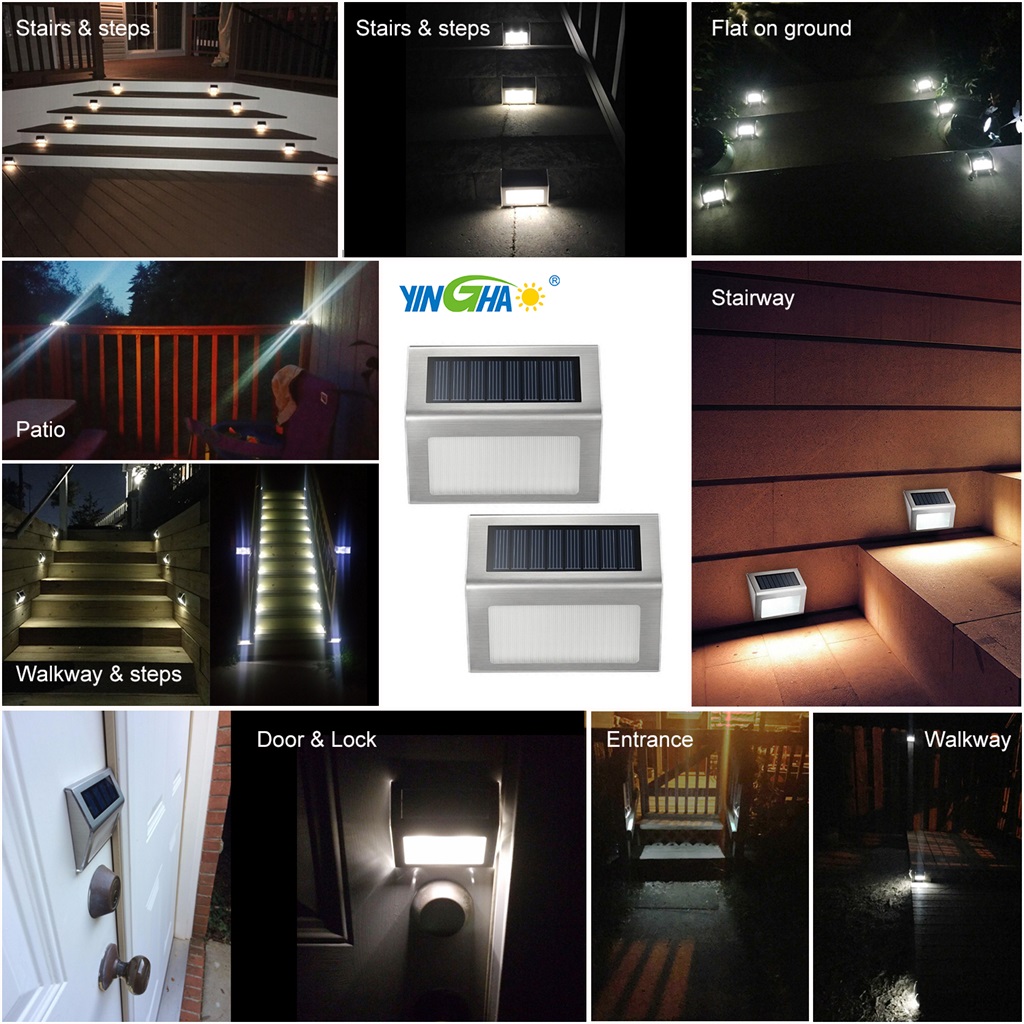 Reviews
By
Tracy
on September 11, 2015
Size: 6 Pack
I am so in love with these solar bright step lights. I just set them on my steps and they're exactly what I wanted. It comes with hardware to mount them on the steps but I personally don't want to drill into my steps that are already cracked. The set came with 4+2 extras for total of six each one has three LED lights and a button on the bottom to turn them off and on. Made of stainless steel and durable for years of use. I don't like to keep my porch light on all night long but I do have a bunch of solar lights around my bushes and I wanted something at the walkway and this was perfect. I received this product at a discounted price for my honest and unbiased review.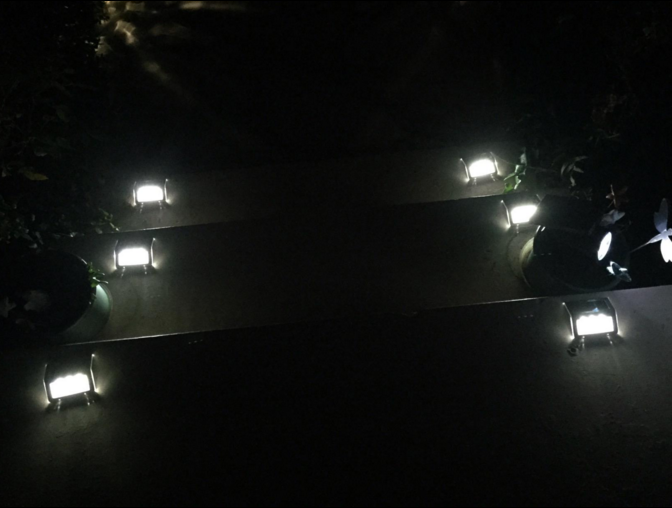 Awesome lights for the back yard!
By
Jeremie Ong Destura
on Nov 11, 2015
Awesome lights for the back yard! These little things provide lots of light at night. Best of all they require no power source and no wires. The instructions did say that the batteries need to be replace after a year or so. The stainless steal housing adds the modern industrial look I was going for.

Beautiful Bright Lights
By
Jamie @ R3
on Mar 22, 2016
Exclusive 3 LED per light -6 Pack from Yonghao

I have finally found a solution for illuminating my front brick steps at night. I don't want to leave the front porch lights on all the time. Traditional light fixtures use more electricity and I sometimes forget to turn them on or off.

The Yonghao kit comes with 6 LED lights and the Mounting Hardware.

The first step is to pick the best location for your new lights. I installed mine on the front steps side rails. You can install these on the brick face in the mortar joints if you would like.

Take the back plate off of a light and use the holes on that plate as a template for your screw holes. Do all six locations.

If mounting in mortar, drill out the hole and insert the green anchor - then the turn the screw almost all the way in. Leave enough screw head for the LED light plate to snap into.

If mounting on wood, you do not need the green anchors that are included. Just use the screws. Remember to leave enough screw head out for the back of the LED light to snap into. You push the LED unit
down to secure it to the location.

Remember to push in the OFF/AUTO switch on the back of the LED light so that it can turn on and off automatically each night before snapping the unit in place.

The unit has a solar panel that faces up to collect sunlight and stores the energy. The bottom of the unit has 3 LED's that aim down and light up the area you have selected.

How does it look and perform? Awesome!!The unit charges up really fast and is very efficient at converting sunlight to power. The lights will stay on easily for 10 hours. Mine come on right at dark and stay on all night.

The light emitted is a nice bright slightly
off white and provides enough ambience to light up my steps.

If you ever need to move or work or one of the lights, simply push up on the unit and pull it off.

You can use the included screws or any outdoor screw with a smaller head size to mount with. The ones that come with it are a smaller Phillips sized screw.

I received this product at a discounted price in exchange for a fair and unbiased review. I hope this helps anyone looking at this product. Feel free to ask me any mounting questions you may have.

I gave this product a 5 star rating. This product does everything as advertised and is very well made and designed.
The only thing I wish they would do is add a cardboard template for the mounting screws. This would simplify the mounting procedure and save a little time. Overall the lights are bright and crisp. They charge fast and stay on all night just as advertised!! I enjoyed installing and really enjoy looking at these lights on my steps at night!!

Great light set, helps light up my deck.
By
Brandy Aird
on Jul 29, 2015
I used these awesome little solar lights on my medium sized deck. We have a light fixture, but it hasn't worked the entire time we've lived here. I'm not spending the money to fix it either (We rent) so I've been constipating putting some small solar lights onto the deck. It's summer, and we spend a lot of time out there in the evenings. I placed these small lights around the handrail of my deck, so that the light was facing more outward rather than pointing down. They did a pretty good job of illuminating my deck. They aren't blindly bright either. My no means do these light up bright enough to read under, but bright enough to see around you.

Once the sun started going down, these things lit right up without any issues. Straight from the box, all I had to do was put them outside and turn their switch to auto. I didn't mount them because we are renting and I didn't want to damage our newly refinished deck. The box did include four sets of mounting screws and anchors. I'm pretty impressed with these, they where ready to use straight out of the box. Very simple design that would work for almost any home.

Update: I put these on my deck back in July, and it's now the end of November. These little lights are still going strong. We live in the PNW, and we have had a ton of rain lately, a wind storm and we are reaching freezing levels at night. No issues with them, they still turn on and shut off with the setting of the sun. I didn't mount them at all, and they didn't blow off during the wind storm either. Pretty impressed with them and how well they've held up. I will definitely be looking into purchasing more when we buy our first home.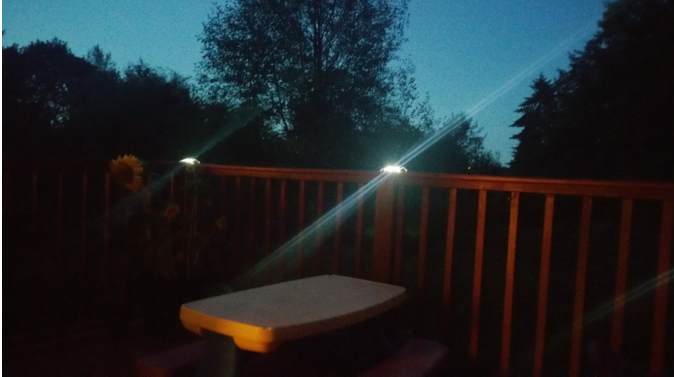 Shipping And Payment
SHIPPING
When you order from Yinghao Solar, you will receive a confirmation email. Once your order is shipped, you will be emailed the tracking information for your order's shipment. You can choose your preferred shipping method on the Order Information page during the checkout process. Yinghao Solar offers four different international shipping methods:
Shipping from Chinese Warehouse

Airmail and register airmail

Area

time

United States, Canada, Netherlands, Spain, Germany, France, Japan, Republic of Korea, United Kingdom

7-20 business days

Australia,New Zealand,Singapore

7-25 business days

Belgium, Denmark, Finland, Ireland, Norway, Portugal, Sweden, Switzerland

7-25 business days

Brazil, Russia, Mexico

15-35 business days

Other countries

7-25 business days

Priority Direct Mail

Austria, Belgium, Denmark, Finland, France, Germany, Greece, Italy, Netherlands, Portugal, Spain, Sweden

7-10 business days

United States, United Kingdom, Australia

6-9 business days

Japan Direct Mail

Japan

5-8 business days

EMS

7-15 business days to worldwide

Expedited Shipping

5-8 business days to worldwide
NOTE: Netherlands Direct Mail has been combined into the Priority Direct Mail. If you are in a European country; simply choose Priority Direct Mail and it will be shipped via Netherlands Direct Mail.
*Expedited shipping can not be used for PO Box addresses
I Urgently Want My Order Can I Use Express Shipping?
Yinghao Solar is happy to provide our customers with express shipping service. However, there are additional costs to consider before choosing this option. Any custom or import duties are charged once the parcel reaches its destination country. These charges must be paid by the recipient of the parcel. Unfortunately, we have no control over these charges, and cannot tell you what the cost would be, as customs policies and import duties vary widely from country to country. We recommend you to contact your local customs office for current charges before you order, so that you will not be surprised by charges you were not expecting.
How Much Does Shipping Cost?
Prices vary depending on product, location, shipping method and warehouse. You can check the cost on every product page.
1. Ensure you have selected the correct shipping country in the "Ship to" tab at the top of the page.
2. Select the desired warehouse
3. Choose shipping method
4. Exact shipping price is calculated
Payment & Exchange


Can I Arrange Cash On Delivery?
Like most online retailers we do not offer any form of pay on delivery. Pay for your orders in advance. There are many different ways you can pay for your orders, from credit card to PayPal; we are sure there is a method you will be able to use.
Can I pay by Credit Card?

We can accept your payment directly via Credit Card.

Paying with Credit card
1) Choose your shipping address OR create a new one.
2) Enter your Card Details and click Submit.
3) Your Payment will be processed and a receipt will be sent to your email inbox.
NOTE:
- Credit cards can only be tried 10 times per hour, if you have made many failed attempts, your credit card will be locked for one hour.
- Yinghao Solar does not accept BRL currency via credit card payment. However, you can still pay BRL with the other payment methods.
To ensure security your credit card number is safely encrypted throughout our server.
We support the following card types: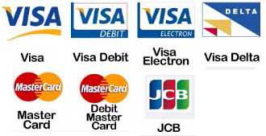 Why Has My Credit Card Been Declined?
The most common credit card issue is incorrect card details, if you have checked the card details are correct the following issues may arise:
. Do not honor by your card issuing bank.
. Insufficient funds in your card.
. Restricted Items: E Cigarettes Or Adult Products.
. Card has expired or a new card has not been activated.
. System section time-out.
. Stolen or lost card.
Can't see the credit card option? Credit card is only available in specific countries that we have an association with, if it is not available we cannot accept credit cards directly. You can still use your credit card with PayPal.
If you are seeing this page you have an issue with your card there are numerous reasons this will show, unfortunately we don't have access to the precise information all we can suggest is you check the card details, complete the transaction with another card or use the other payment methods.
Can I pay my order by

PayPal Payments
Through PayPal, you can pay with credit card, debit card, or connected bank account. Once your order is submitted, you will be redirected to PayPal's page where you can make the payment.

1) Login to your PayPal account or use Credit Card Express.
2) Enter your Card Details, the order will be shipped to your PayPal address, and click Submit.
3) Your Payment will be processed and a receipt will be sent to your email inbox.
NOTE: Your order will be shipped to your PayPal address. Ensure you have selected or entered the correct delivery address.

Wire Transfer Payments

is also welcomed
We are also happy to accept Wire Transfer payment for most orders over US$100 in value. Orders under US$100 can not be paid via Wire Transfer.

For Wire Transfer payments
Beneficiary Name:
Beneficiary Bank:
Bank Address:
Bank Code:
Beneficiary Account Number:
Swift Code:


IMPORTANT NOTICE: After you place your order, check your inbox for a confirmation email that contains instructions for how to complete payment for your items. Your products will not be shipped until payment is completed. If you have any other questions regarding your order payment through Wire Transfer, please email: sales@zsyinghao.com

We want to remind all customers that they are responsible for all local handling fees and intermediary bank handling fees. Therefore, customers should confirm the total payment amount with their local bank.
FAQ
Sorry, you haven't logged in!