YH0502C
200Lumen 2W Outdoor Waterproof Solar Spotlight 4 LED Wall Light Ground Light 2 in 1 Solar Landscape Light Security Light
$26.99
Hot Deal $16.99
Model No:

YH0502C

LED Color: White/ Warm White

Solar Panel: Polycrystalline Solar panel 5V/2W

Battery: Lithium ion battery 3.7V 2200MAH

Light Source: 4 LED, 2W, 200Lumen.

Quantity:
Add To Cart

★ All weather resistant, IP44, easy to set up and no wiring.
★ 200Lumen powerful spotlight, perfect for landscape and accent lighting.
★ 2 in 1 Functions - Stick into the ground./Use included screws to mount on the wall.
★ Built-in long lasting lithium battery(2200mAh), burn free daylight.
★ Automated Switch - Auto on at night / Auto off at sunrise.

★ 2 Mode of lighting: Low for dim light; Hight for brighter light.
Product Details
Reviews
Shipping And Payment
FAQ
Product Details
Features:
★
3rd Generation
solar outdoor spotlights,rechargeable and adjustable solar wall lights / In-Ground Lights, easy to install with no tools.Waterproof and Durable, withstand all
kinds of weather all round the year.
★ Fully Adjustable Light & Solar Panel - Adjust the light angle to illuminate the perfect spot and adjust the solar panel angle for optimum sun exposure.
★ 2 in 1 Functions - Stick into the ground./Use included screws to mount on the wall.
★ Unique solution in landscape and outdoor lighting,Powered by a lithium ion rechargeable battery that's solar powered.
★ Automated Switch - Auto on at night / Auto off at sunrise.2 modes(high/low).4 bright LED Bulbs, 50 Lumen in Each LED, 200 Lumens in total 4 LED,Built-in 18650 lithium rechargeable battery(2200mAh). Light up 6-9 hours after fully charged
Specifications:
Item Name: Solar garden spotlight.
Solar Panel:Polycrystalline sillicon , 5V 2W.
Light Source:4PCSX0.5W (Φ10mmLED/white color light. Lumen:200LM.
Color Temperature:6000K-7000K.
Working Time:6-12h.
Charging Time:5.5h.
Function:Light control, daytime solar panels for battery charging, automatic night lights, third gear switch control: 1st lights 6 hours, 2nd light off, 3rd lit 12 hours, 1/2 bright.
IP Grade:IP44.
Main Material: ABS+PS.
Crust Color:Black.
Item Size:29*9*30 cm.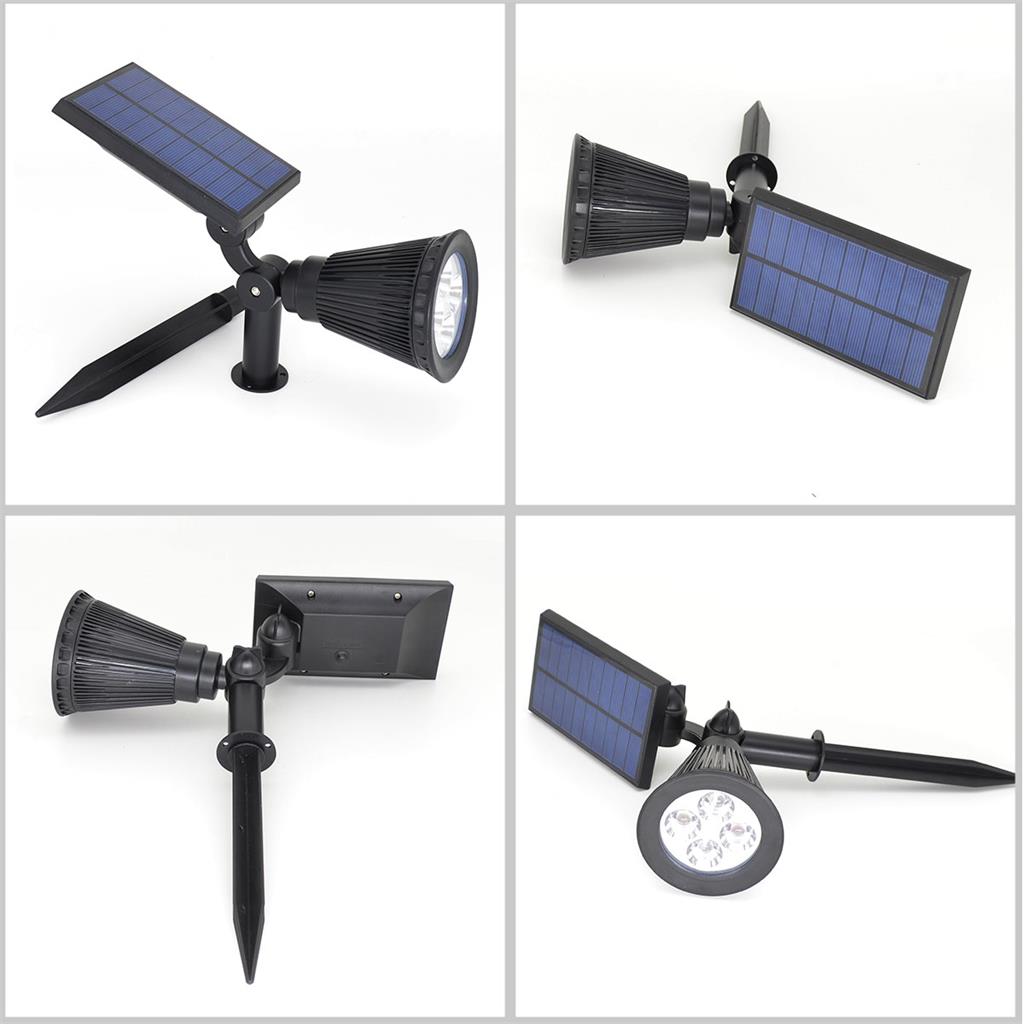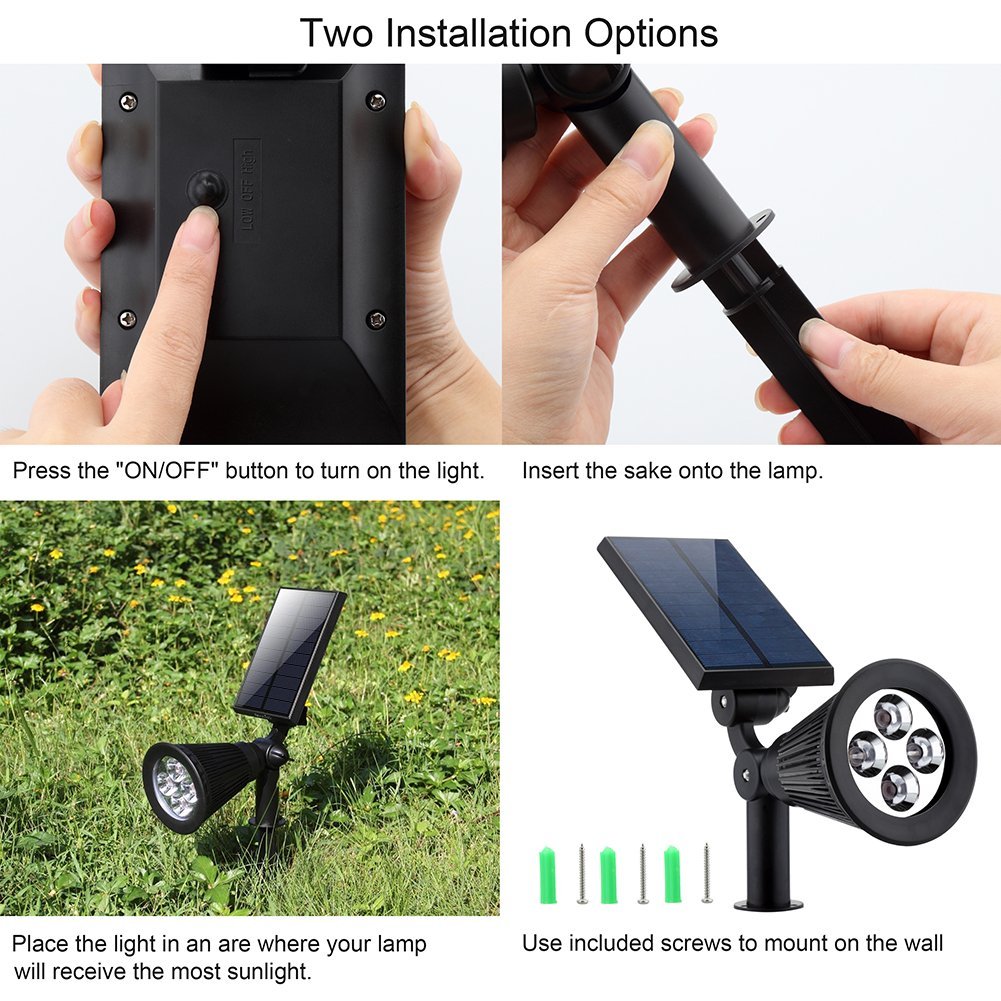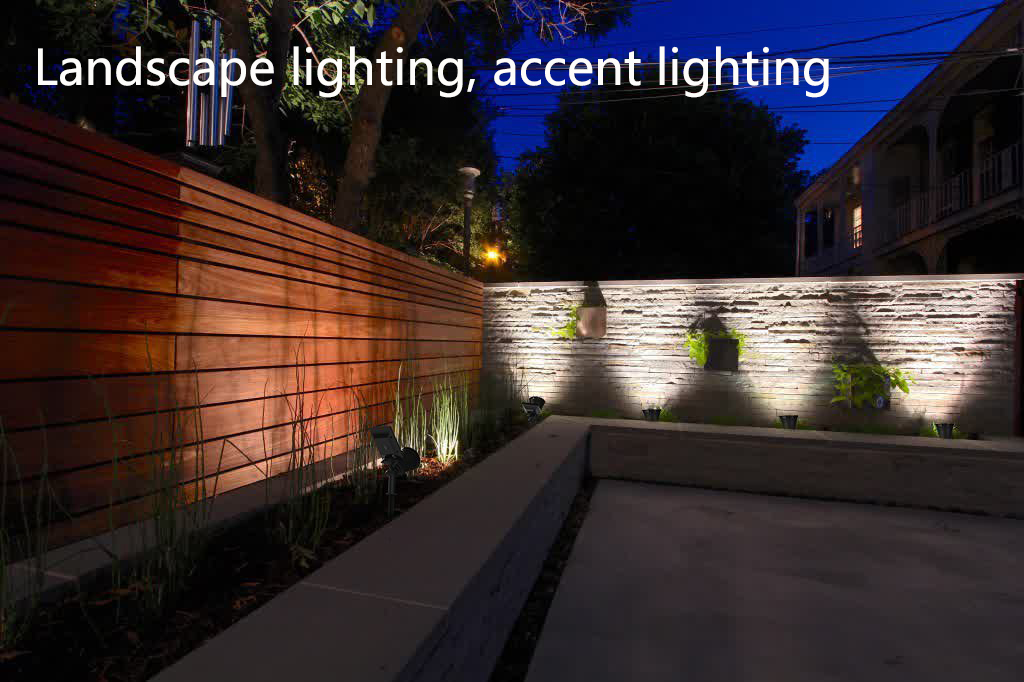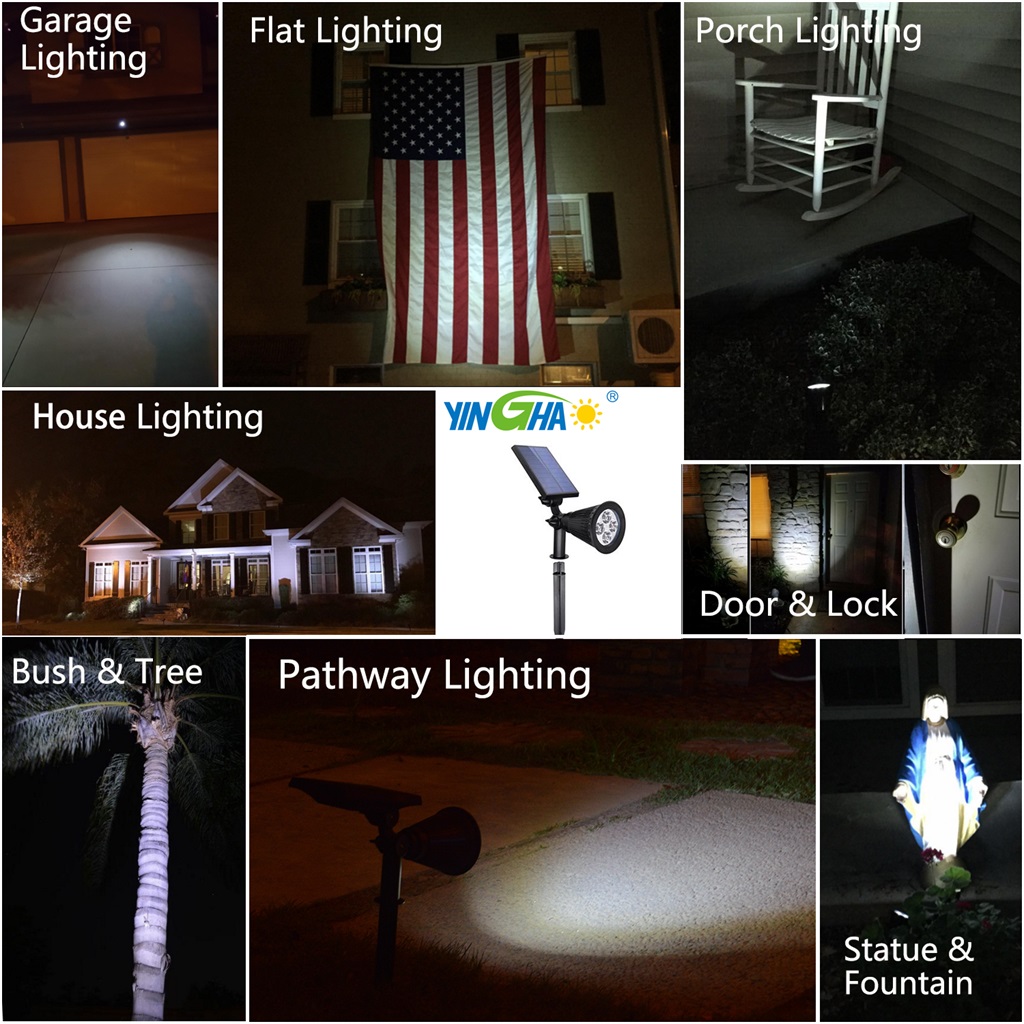 Application of this product:

★ Pathway Lighting
★ Landscape Lighting

★ Bush Lighting

★ Garage Lighting

★ Flat lighting

★ Front Porch Lighting, door & Lock

★ Ramp Lighting
★ Accent Lighting

★ Statue & Fountain Lighting

★ Sidewalk Lighting
★ Private Road Lighting
★ Square Lighting
★ Jogging and Bike Path Lighting
★ Perimeter Security Lighting
★ Farm & Ranch Lighting
★ Wildlife Area Lighting
★ Park Lighting
★ Gate Lighting
★ Yard Lighting
★ Campus Lighting
★ Boat Dock Lighting
★ Remote Area Lighting
★ Parking Lot Lighting for LED lawn light
Warm tips:
☀ The spotlight won't light up in bright place. Please select an outdoor location away from other light source at night,such as street lights.It may cause the product not to turn on automatically at night.
☀ For the first time use,please charge it by placing it under direct sunshine for at least 8 hours.
☀ The working time and charging time depend on the weather condition,the season and location.
☀ It is waterproof,cannot immerged into the water or stay in the water too long.
☀ Please be sure it is installed in a well-lit location where the solar panel can get maximum sunlight during the day.
☀ Please confirm the switch is under "on" status so that the light could be charged normally and auto lights on at night.
Reviews
Best solar powered spotlights ever!! (See photos)
By
kna9370
on Apr 14, 2016
These lights are absolutely amazing! I have tried several types of solar spotlights from local retail stores but they do not compare to these. These lights are very bright. I love the fact that I have the options to brighten, dim or even turn them off altogether. (However I always leave them on) These lights are so bright that they illuminate my tree's, front door and the front of my house very nicely at night. I have received many compliments on these lights as well! I have used these lights for several weeks now and they have never dimmed or failed to illuminate my house and landscape. Great, reliable product!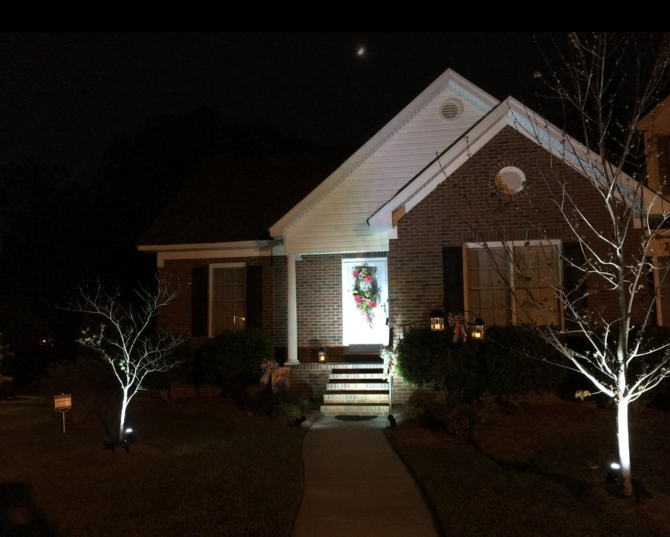 Great spotlight to highlight your favorite yard features
By
Kelliar
on Aug 21, 2016
I've had this for about a week now and every single day since then we've had long cloudy periods and it has rained yet you'd never know it from how well this light has performed. I've left it directly out in the elements and it's handling it just fine, no fogging/water droplets in the solar panel or the glass in front of the light (as I've seen happen to almost all solar lights I've had in the past). Our yard doesn't have much to spotlight quite yet, but it's getting there and we do have a nice spruce tree that I'm currently using this on. I've attached a photo of it on both the "high" and "low" settings, the difference isn't huge but it's noticeable (it's turned on high/low/off by pressing the button on the back of the solar panel, each press changes the setting in that order). I haven't had much luck in the past with solar lights (though the last ones I tried were about 10 years ago) but I was offered to try this product at a discount in exchange for a truthful review so I'm hoping to see that this technology has improved since I've last tried it. I can already tell this definitely has far greater light output than the lights we had in the past so I'm taking it as a good sign. We've only had this for a week so I can't speak to it's true longevity, but so far it's holding up really well to the rain, is really easy to adjust where you want the light focused, and I'm overall pleased with it's function.
Great product for being solar!
By
Janae Holmes
on Jun 21, 2016
I have only had these a week, but they are SO MUCH brighter than I thought they would be for being solar powered. I am trying to light a large 10' x 15' foot flag we have hanging from the side of our house, and wasn't sure these would do the job, but they did! From about 6 feet away they light the whole thing. They don't last the WHOLE night on high, but I'm ok with that.

SIMPLE use, EASY setup, BEAUTIFUL spotlight
By
MonkeyKing
on Aug 29, 2016
In my opinion, this pair of Yinghao Solar Spotlight has the following pros vs cons:
PROS:
1. They are powered by solar panel, so they are ideal to work as wireless light without a need to wire electric for it.
2. Their solar panel is pretty big, so as long as they work, they can take lots of sunlight and convert them into power to charge their batteries.
3. They came with garden stakes, so it was very simple to set them up. I just screwed them down the garden soil.
4. They have LED lights which are very bright at night when they light up.
5. They have auto on/off feature which turns themselves on at night but off during the daylight. So as soon as I put them down the soil, they just work and work everyday at night.

CONS:
none at this moment

FINAL THOUGHTS:
These come in pair so the pair makes an outdoor decoration beautiful. Based on my experience, they can be great for outdoor settings like a garden, patio, deck, flagpole, shed, garage, lawn...etc
Shipping And Payment
SHIPPING
When you order from Yinghao Solar, you will receive a confirmation email. Once your order is shipped, you will be emailed the tracking information for your order's shipment. You can choose your preferred shipping method on the Order Information page during the checkout process. Yinghao Solar offers four different international shipping methods:
Shipping from Chinese Warehouse

Airmail and register airmail

Area

time

United States, Canada, Netherlands, Spain, Germany, France, Japan, Republic of Korea, United Kingdom

7-20 business days

Australia,New Zealand,Singapore

7-25 business days

Belgium, Denmark, Finland, Ireland, Norway, Portugal, Sweden, Switzerland

7-25 business days

Brazil, Russia, Mexico

15-35 business days

Other countries

7-25 business days

Priority Direct Mail

Austria, Belgium, Denmark, Finland, France, Germany, Greece, Italy, Netherlands, Portugal, Spain, Sweden

7-10 business days

United States, United Kingdom, Australia

6-9 business days

Japan Direct Mail

Japan

5-8 business days

EMS

7-15 business days to worldwide

Expedited Shipping

5-8 business days to worldwide
NOTE: Netherlands Direct Mail has been combined into the Priority Direct Mail. If you are in a European country; simply choose Priority Direct Mail and it will be shipped via Netherlands Direct Mail.
*Expedited shipping can not be used for PO Box addresses
I Urgently Want My Order Can I Use Express Shipping?
Yinghao Solar is happy to provide our customers with express shipping service. However, there are additional costs to consider before choosing this option. Any custom or import duties are charged once the parcel reaches its destination country. These charges must be paid by the recipient of the parcel. Unfortunately, we have no control over these charges, and cannot tell you what the cost would be, as customs policies and import duties vary widely from country to country. We recommend you to contact your local customs office for current charges before you order, so that you will not be surprised by charges you were not expecting.
How Much Does Shipping Cost?
Prices vary depending on product, location, shipping method and warehouse. You can check the cost on every product page.
1. Ensure you have selected the correct shipping country in the "Ship to" tab at the top of the page.
2. Select the desired warehouse
3. Choose shipping method
4. Exact shipping price is calculated
Payment & Exchange


Can I Arrange Cash On Delivery?
Like most online retailers we do not offer any form of pay on delivery. Pay for your orders in advance. There are many different ways you can pay for your orders, from credit card to PayPal; we are sure there is a method you will be able to use.
Can I pay by Credit Card?

We can accept your payment directly via Credit Card.

Paying with Credit card
1) Choose your shipping address OR create a new one.
2) Enter your Card Details and click Submit.
3) Your Payment will be processed and a receipt will be sent to your email inbox.
NOTE:
- Credit cards can only be tried 10 times per hour, if you have made many failed attempts, your credit card will be locked for one hour.
- Yinghao Solar does not accept BRL currency via credit card payment. However, you can still pay BRL with the other payment methods.
To ensure security your credit card number is safely encrypted throughout our server.
We support the following card types: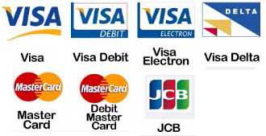 Why Has My Credit Card Been Declined?
The most common credit card issue is incorrect card details, if you have checked the card details are correct the following issues may arise:
. Do not honor by your card issuing bank.
. Insufficient funds in your card.
. Restricted Items: E Cigarettes Or Adult Products.
. Card has expired or a new card has not been activated.
. System section time-out.
. Stolen or lost card.
Can't see the credit card option? Credit card is only available in specific countries that we have an association with, if it is not available we cannot accept credit cards directly. You can still use your credit card with PayPal.
If you are seeing this page you have an issue with your card there are numerous reasons this will show, unfortunately we don't have access to the precise information all we can suggest is you check the card details, complete the transaction with another card or use the other payment methods.
Can I pay my order by

PayPal Payments
Through PayPal, you can pay with credit card, debit card, or connected bank account. Once your order is submitted, you will be redirected to PayPal's page where you can make the payment.

1) Login to your PayPal account or use Credit Card Express.
2) Enter your Card Details, the order will be shipped to your PayPal address, and click Submit.
3) Your Payment will be processed and a receipt will be sent to your email inbox.
NOTE: Your order will be shipped to your PayPal address. Ensure you have selected or entered the correct delivery address.

Wire Transfer Payments

is also welcomed
We are also happy to accept Wire Transfer payment for most orders over US$100 in value. Orders under US$100 can not be paid via Wire Transfer.

For Wire Transfer payments
Beneficiary Name:
Beneficiary Bank:
Bank Address:
Bank Code:
Beneficiary Account Number:
Swift Code:


IMPORTANT NOTICE: After you place your order, check your inbox for a confirmation email that contains instructions for how to complete payment for your items. Your products will not be shipped until payment is completed. If you have any other questions regarding your order payment through Wire Transfer, please email: sales@zsyinghao.com

We want to remind all customers that they are responsible for all local handling fees and intermediary bank handling fees. Therefore, customers should confirm the total payment amount with their local bank.
FAQ
What questions do other customer have about this product? You might have the same questions and you can find answers here!
Question: How many lights do you get?
Answer: We have 1 pack, 2 pack, 4 pack available.
Question: How does the button on the back of the solar panel work?
Answer: It is a ON/OFF switch. Push it to turn it On, then it will work automatically(turn on at dusk,turn off at dawn).
It is also a function switch to choose LOW and HIGH mode. Low represents dimmer lighting; while high brighter lighting. Push the button once it is LOW mode, push it twice HIGH mode.
Question: Is this warm white or cool white color temperature?
Answer: We offer three color options: warm white color(3000-3500K); cool white color(6000-6500K); RGB Color changing.
Question: What type of replacement bulb is used for this light?
Answer: The LED bulbs built in the light is not replaceble. But, don't worry, the lifespan of these LED bulbs is about 15-20 years.
Question: Can you use these to highlight tall palm trees?
Answer: One of the applications of this spotlight is to highlight flag, trees and bushes. For a 30 ft flagpole, one of this spotlight does an excellent job, as it can be adjusted to any angle. For a tall palm trees, you may have to use several to provide enough light at the top of a very tall tree. Or install this light at the middle or upper trunk, just like this picture:
Sorry, you haven't logged in!